The SilverStar platform is a web application supporting "various actors" in co-creating digital innovative solutions in the area of elderly care.
Who are the "various actors"?
Any researcher, entrepreneur, senior, formal or informal caregiver, or representative of the public authority is a stakeholder for the SilverStart platform, i.e. any representative of the quadruple helix.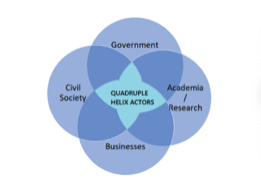 The platform has two main purposes:
To spread information on co-creation and about innovative solutions designed in the project pilot's activities.

To create a virtual community for innovation (VCI) by providing specific online tools that encourage and support transnational collaboration and co-creation.
The SilverStar platform is the tool used by the I-CARE-SMART Regional Pilots.